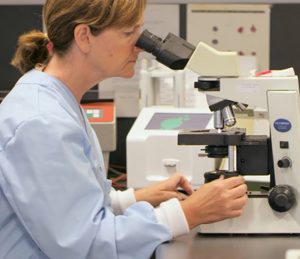 Uni Vets Camden is home to an on-site clinical pathology lab allowing rapid turnaround of blood tests and other clinical pathology tests.
Our Pathology team includes experienced senior pathologists, a training pathology intern and ready access to a range of specialists.
External laboratories are sometimes utilised to supplement available services.
Services include:
Full haematology and biochemistry analyses (blood counts)
Blood and other fluid chemistries
Urinalysis
Progesterone (two-hour turnaround)
Cytological analysis of fluids (joint, pleural, peritoneal and cerebrospinal fluid) and fine-needle aspirates
Microbial (bacterial, fungal) isolation, identification, and antibiotic sensitivity testing
Blood parasite testing (haemoprotozoan parasites, nematodes)
Histopathology (biopsy) diagnostic service
Full post mortem examination service.
External vets
The on-site laboratory also provides its full range of services to external veterinarians. To supply a sample, simply complete the Clinical Pathology Request Form and drop the form and sample into 410 Werombi Road, Brownlow Hill (near Camden). For further information call 02 4655 0777 or email univetscamden@sydney.edu.au