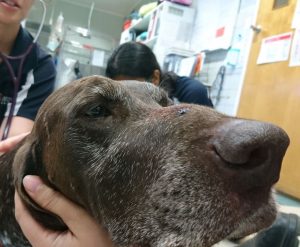 Lizzy, a 6yo German Short hair Pointer was brought into Camden Uni Vets recently after she was bitten on the bridge of her nose by a red-bellied black snake. Her family acted quickly and Lizzy arrived at the clinic soon after the incident to receive a dose of lifesaving antivenom.
Red-bellied Black snake venom can cause clotting defects, damage of blood cell and muscle cells, paralysis and cardiovascular failure. Haemoglobin and myoglobin are released from damaged blood cells
 and muscle cells, these can be toxic to the kidneys. Unfortunately, Lizzy developed red tinged urine which indicated there was high risk of damage to her kidneys. To prevent development of secondary renal (kidney) failure, Lizzy was hospitalised for 5 days and kept on fluids and diuretics to help dilute the urine and protect her kidneys. After her hospital stay at Camden Uni Vets, Lizzy made a full recovery and was happily sent home to hopefully not be playing with any snakes again.
By Rena Shibata, final year veterinary student, University of Sydney